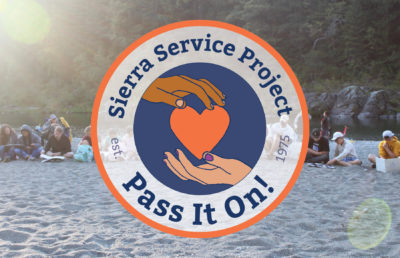 Please Contribute to SSP's Success this Spring
This spring, we joined the Greater Sacramento Region in Big Day of Giving! Thanks to the generous gifts of 214 donors, we raised just over $37,000. Thank you to all who gave this spring with donations of everything from $5 to $5,0000.
We still invite you to make a gift to help us build community this summer. Learn more about the 2021 programs you'll be powering with your gift.
Sierra Service Project is an independent 501(c)(3) nonprofit organization incorporated in the state of California. All donations to SSP are fully tax deductible. Learn about SSP's finances.
Want to give monthly to SSP? It's easy and powerful. Join over 150 monthly donors in supporting SSP throughout the year.