Please Contribute to SSP's Success
Sierra Service Project is an independent 501(c)(3) nonprofit organization incorporated in the state of California. All donations to SSP are fully tax deductible. Learn about SSP's finances.
During this difficult year, we rely on the generosity of our our donor community more than ever. Your generous gift helps us invest in youth and community during our 45th year and beyond.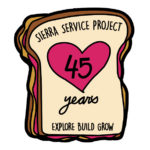 Anyone who donates $25 or more to SSP between now and the end of September will receive our 45th Anniversary PB&J sticker as a token of our thanks.
Want to give monthly to SSP? It's easy and powerful. Join over 175 monthly donors in supporting SSP throughout the year.