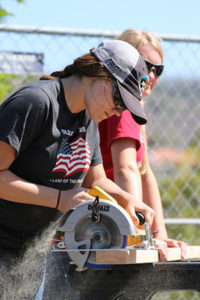 For forty years, supporters have helped Sierra Service Project shape the lives of young people and strengthen communities in need.
Sierra Service Project is an independent 501(c)(3) nonprofit organization incorporated in the state of California. All donations to SSP are fully tax deductible.
Contribute to SSP's Success
Donations account for one-third of our overall budget. Our donors consist of parents, grandparents, former youth participants, staff members, and board members; along with some businesses, churches and foundations. Without these gifts, we would be forced to charge at least $150 more per volunteer for our summer program.
Want to give monthly to SSP? It's easy and powerful. Join over 150 monthly donors in supporting SSP throughout the year.