Year-Round Online Programs
Though we greatly miss in-person gatherings, we are committed to fostering community in all contexts. To that end, SSP will be launching several new online programs for our year-round season:
Objective: To engage deeply in group learning and discussion on topics our community is passionate about, including faith, advocacy, and service.
Logistics: These virtual gatherings will be planned and led by SSP's Leadership Academy fellows. Some discussion topics may be standalone events, while others will build on themselves over several gatherings. Participation fees will be based on either single event registration or a bundled purchase for multiple sessions.
Get Involved: Stay tuned for details! Share your ideas for topics your group would be interested in.
Objective: To support faith development in churches, youth groups, and individuals.
Logistics: Program curriculum from SSP's last five summer themes will be available for purchase at varying levels, ranging from self-led PDFs to staff-led programming.
Get Involved: Watch for curriculum to be added to SSP's online store! In the meantime, program journals from 2017-2020 are available for purchase.
Stay tuned for further details on each of these programs and how you can be involved!
Return to In-Person Service
In order to protect the safety of our partner communities, staff, and volunteers, we will be following California's Blueprint for a Safer Economy in order to determine when we will begin our return to in-person service.
We will only serve when county risk is in the moderate or minimal categories
Begin with Days of Service (no overnight programs) in Sacramento where we have funding and active partnerships
Along with registration, information will be shared about pricing, credit allocation, COVID-19 refund policy, safety measures, etc.

Pre-volunteer day safety online training
Start with households and small pods of volunteers, limiting the number of people on site (including staff)
Exterior work only, utilizing rented porta-potties and hand washing stations, maintaining distance between homeowner and volunteers
Emphasis on social distancing and mask-wearing
Masks and work gloves provided by SSP
We hope to have funding and partnerships to serve with additional communities. At this time, we are limited in where we can serve.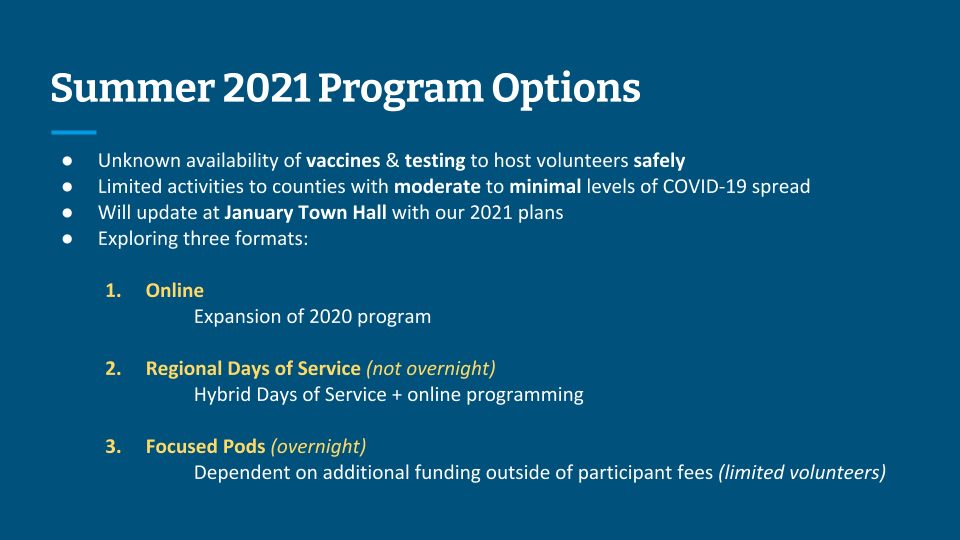 Frequently Asked Questions (FAQ)
Additional questions? Contact us: