We are proud to share career opportunities from fellow organizations in the faith and community service community. Email our central office staff if you have a job posting you'd like us to share.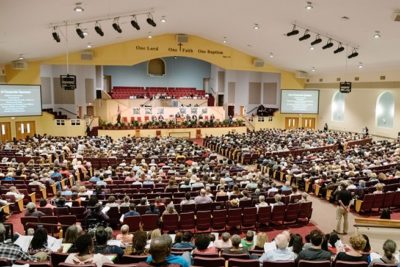 Careers in Community Organizing for Social Justice
The Direct Action and Research Training Center, Inc. (DART) is a national network of 23 faith-based community organizations that unite congregations across racial, religious, and socioeconomic lines to pursue justice. DART organizations seek long-term, sustainable improvements at a systemic level.
DART organizations engage in direct action assemblies in which thousands of people from a cross-section of faith traditions publicly hold decision-makers accountable on solutions to serious local community problems. DART organizations' recent victories include: multi-million dollar investments in affordable housing, increased access to primary health and dental care, statewide legislation to rein in the payday loan industry, implementation of restorative justice practices in public schools, decreasing the high number of juvenile arrests for non-serious offenses, and expanding opportunities for people released from jail/prison.
They are currently accepting applications for Associate Community Organizer positions in the cities listed below.  The deadline to apply is December 13, 2020. DART will hold an online info session on Wednesday, December 9 at 7 pm eastern / 4 pm pacific to discuss careers in community organizing.
Sign up at www.thedartcenter.org/info
DART trains professional organizers and community organizations to work for social, economic and racial justice, including:
Holding police departments accountable
Shutting down the school-to-prison pipeline
Reining in predatory lenders
Expanding access to primary health and dental care
Prioritizing funding for affordable housing and job training
Fighting for immigrants' rights
Positions start January 11, 2021 and August 9, 2021 in:
Kansas: Topeka and Johnson County
Kentucky: Louisville and Lexington
Ohio: Columbus
Florida: St. Petersburg, Miami, Ft. Lauderdale, Lakeland, Tampa, Sarasota, Fort Myers, West Palm Beach
Starting salary $40,000/year + benefits.
DART organizations are diverse coalitions including many low- and moderate-income, minority and immigrant communities. We strongly encourage people from these backgrounds, as well as fluent Spanish speakers and DACA recipients, to apply.
To apply or learn more about DART, visit www.thedartcenter.org and find us on instagram and facebook @theDARTcenter. Still have questions? Contact SSP staff alumni and current board member Moe Leneweaver at moe@thedartcenter.org or 602.510.4658.